1st work (i) Rewrite
1st work (i) Rewrite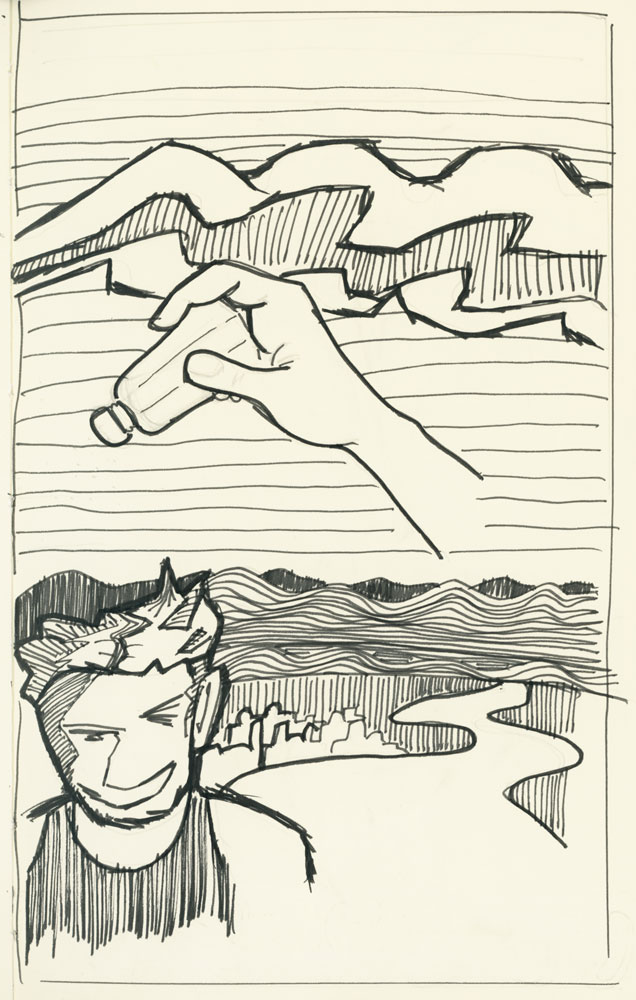 1st work

The Dinner
(i)


(Background Sketch 01)
Teaming the life schools and concepts thereof. Ahhh, more nicely too the imagination and the way it retorts and reverts and succumbs. Gawd some could say modelled after this handheld scenario of his youth.
Now the grownups. Yeah, he's just going about his way, working on being the Jock of the town and throwing the smile and the smirk yes too. Biding what he thinks to be time and still to be tasted while they be telling him off.
"Pull yourself together Sonny Jim and don't think you're anyone in particular laddie boy. Don't go gettin' a swollen head."
Ahhh but no sir, you turd, he thinks and smirks yet again. As by then no one had told him a thing or two 'bout life yet, so just a little comfy lad was him. And some prick on the go-by suddenly squeals, why you abnox, abnox, abnox, obnoxious…
And the hum of the long day, or buzz of the passing through traffic on mainwestcoastroad. Ruddy sunset dinner on time lay the table. Mix the drinks. Give me my slippers. He heard so much so.
Working on the pages even then. To build to build. As buggers of kids… Small pricks. Little scallop sad eyes and yet his deep valleys of anger.
Stuff'em. He'll shake his sleeves and deliver his own tell offs. Telling them off.
Until someone croaks a, "sod off", by which the little tike scarpers off home to mum.
Me Mum she be the one back there pointing finger toward a crazy billow and fold of mountain and sky. Still see it on the curtains of mind's eye.
Right from the start we're moving into sleepy Darfield town, Darfield tone on th'plains bleat bleat. Your Mum sang yes, the blue shadows of Southern Alps and peeling back those lacey curtains to reveal so wonderful the beauty asleep. Core she's a beauty mate, that Sleeping Beauty range lying outstretched with flowing hair and cone like tits, smashing through sou'wester clouds. Such a friggin threat on such a summers day.
The winds or what were they now, always the nor 'west and sometimes the sou'west and later he be reminded or was told of the westerly and the easterly. So, as it was beginning to show, all just winds of change.
↙
silver strands the menstrual flow and leaching gouge the rush his ancient horizon of snow melt…
mountains upon mountains…
a beat in time to their roots growing out from the soiled fingertips of profanity…
and in some way tasting forth into the salt like rock of your backboney past…
and too the earthy scent sweeping down from that Sleeping Beauty range at your doorstep…
so concrete feel it with your palm…
while still the brisk pace of those earliest days as laddie divine…
making sure you have the warmest clothes on because you know how mad it blows down there over the RIVER bed on this heavy pressing Sunday…
as it dwells over the grey tones billowing up from that endless surge of icy water from the high country…
and standing atop the clay cliffs we peer down into a world of stones and sand and mire and scrub and mile after mile of ribbon waters brave liberation from main stream… 
whirlpool there and rapids there…
gull cry come flutter of pheasant wings and young breath oh great sense of importance because he's carrying his own thermos today and shouldering his own rifle and commanding his own dog…
splurge and celibacy the quick growth and easy breath and trust under heaven so attainable…
oh and too the greeting of friends before we really knew what friends were and the exchanging of theories about what life really was…
 and once and a while too what death could mean if it meant anything at all…
and gee crumbs the mountains how I loved them and cried for them and was framed by them…
as you saw upon my wild ways the mad flick come stand-off…
or that marvelous tension somehow after the years becoming transformed into a dark shadow of presence, doom wielding neurosis, soul shattering and mind narrowing ache of impermanence…
snatching redemption…
ashtray stab…
while yet today's face out to the weather being immune to the elemental touch of the nor 'west wind…
Copyright © Graeme Perrin 2023