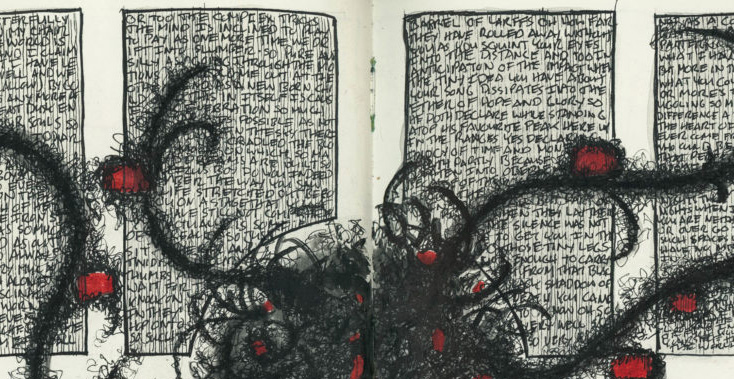 (marking insertion regarding fathers presence)
You knew though that it was one of those weekends. Time to rustle up some gumption it was. And it didn't happen that often so… no fanfare to herald this. Just one of those unnatural primetimes with dad things. More's like the going through the motions, give us a cuddle before "off to bed". So, why not get the little sod out for a bit of a run-around. Strengthen his spine. Give him some guts… and a bit of heart.
When you're there you are rampant. In time to squeeze ideas of this beyond your pain. You're mainstream…  so to say, the bus. enough to get him somewhat out of here. Down the spiral. then inevitable tumble on the tongue. taste the words you need. the words you need. the words you heed. snatch that much needed sleep while such flying above. the cloud still can't hint at all that it's about to reveal. challenge of being trapped in this. molded in this. bitch. mirth. deep-set in this clearing. in this forest. standing in the queue while being very silent in anticipation as perhaps one day if we are so lucky, we have time to speculate that now and now and only now are we drawing our last breath. sigh. sigh. the fresh taste of new growth. or thus, thus in the cradle and grave we still take what we can. make our moves. Breathe our air. cry out tears step out and always. so always talk our talk. deep so down as drifting out into the interstellar cut of these words. Multiverse of these dreams. for now, there have been no ears to this, and the continuous rain of speculation lashes out across these plains where I grew up on (more high sky) I was swept here by the carrion fouls of fate. to paint this three-dimensional backdrop, I spy. lie, soft upon the green grass, 900 miles looking up to the flow of this wild self-expectation. varying degrees. lord of the night. the height. so great above the way. so many times the conquered deserts of storms. a quest finally embarked upon for now. there is no point of return. no way back into this business of mine. business of time. beyond measure of time. no time. no time. all is eradicated, and/or not even given birth to. not even given earth to. taint the roughness of the fall of it. damn the down of it. he could be too cool to cry. all out. all just basic. all out. Just got it all in a day's work. walk and denouncement tendencies trickle so small and so silent. standing in the same such starts. predestined. I'll not be having my way with you I know. and God stood there at the door saying. you never look back. never see the touch of this. you cancelled the search of this. so steady as she goes. relate. do not hate. chuck down the drinks as if there was no tomorrow. no way to define her meaning of this. there in all her forms. there. no denying how she's always allowed me to attempt this, just so repeating this.
Copyright © Graeme Perrin 2023